Individual Therapy
Individual therapy is meant for individuals who want to work on their own challenges in a one-on-one environment, rather than with the partner(s) of their relationship(s). During this type of therapy, we can still work on challenges related to your relationships, but we will focus more on just the things you can do to change or communicate better. We can dive into the patterns you bring to your relationships and work together to find other ways of relating. Individual therapy is also good for working with more complex individual issues, such as childhood trauma, depression and anxiety. Through our work together, you will find yourself more able to cope with your emotions and start enjoying more of your life.
Throughout my experience, I have done a lot of work with individuals in therapy to alleviate symptoms of depression, anxiety, anger and PTSD. I have a lot of experience working with people who have a trauma history or have been in foster care as well. Please note that I do not have experience working with substance abuse, and am not comfortable working on those issues, if this is effecting you.
Relational Therapy or Couples Therapy
Relational Therapy is meant for couples or other relationships that are ongoing (marriages, friendships, triads, poly relationships, siblings, etc). I primarily work with intimate relationships – couples, triads, or other poly dynamics – that have a romantic and/or sexual relationship with each other. Relational therapy can be helpful in alleviating all kinds of relationship issues, whether you have difficulty parenting, are transitioning from monogamy to non-monogamy, communication difficulties, or sexual issues. In therapy, we will work to improve your communication with each other, so that you can have productive discussions when something arises. Beyond communication, we can dive into intimacy issues including insecurities, anxiety or differences in sexual desire and needs. I strive to help each relationship get back to enjoying each other and the relationship again.
I am accepting and welcoming of all types of relationships – LGBTQIA+, polyamorous and other forms of non-monogamy, relationships that include BDSM, kink, or power exchange dynamics. My sessions are a safe and non-judgmental zone, and I work with you to define what will work best in your relationship(s).
Groups
Groups combine a combination of education and group therapy tied to a specific topic. Individuals, couples, or more are welcome in any of my group.
Current Group Openings: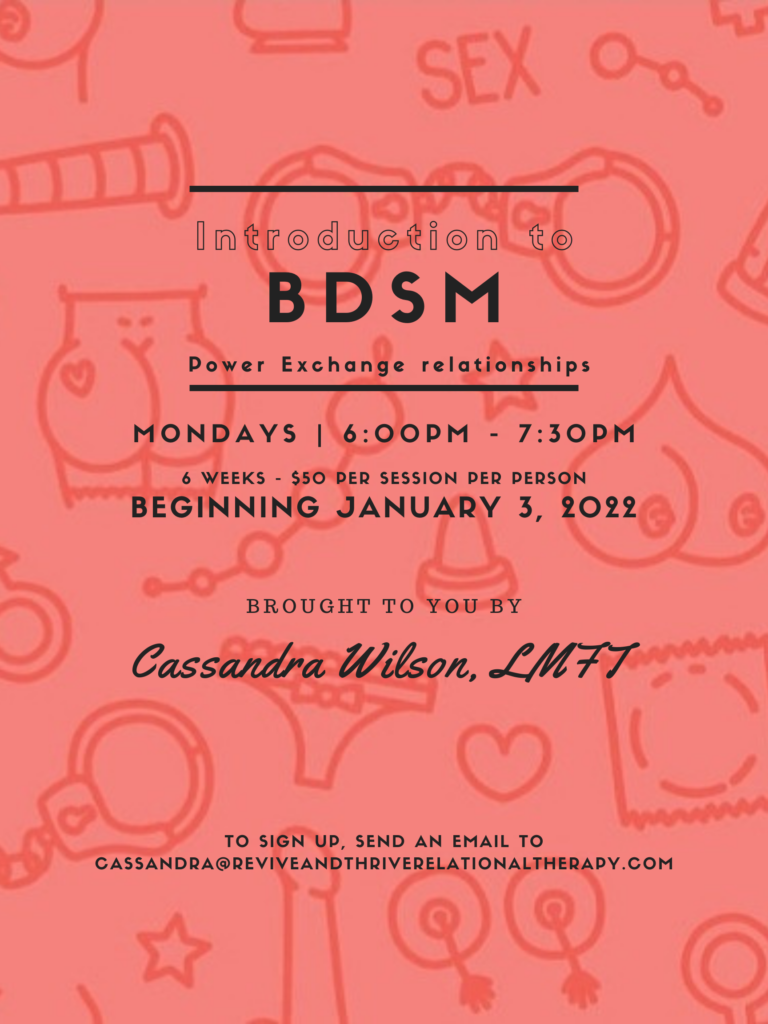 Intro to BDSM Power Exchange Relationships
This group is meant for people who are curious about BDSM and power exchange relationships and are looking for education about these types of relationships and how to transition your relationship into a power exchange dynamic. This group will be meeting Mondays 6-7:30pm beginning January 3, 2022 for 6 weeks via telehealth. Sessions are $50, totaling $300 for the series – please contact me to discuss payment arrangements.